Leadership Lessons From the Medicine Wheel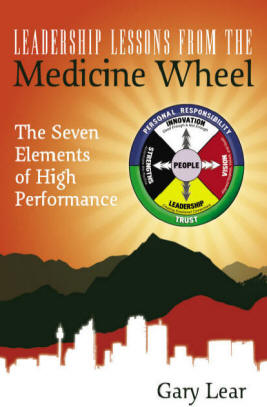 Ancient Wisdom For Modern Times
Based on 3 years of research and over 100 research documents reviewed, the Seven Elements of High Performance™ emerged as a simple, yet comprehensive model to explain how to achieve high performance in any organization.

GET KINDLE EDITION

During the past decade, a number of good books on organizational performance have been published; however, none so succinctly, creatively, or compellingly describes how to emotionally connect with employees to unlock their hidden potential to create high performance organizations. This is a must read for all managers desiring to achieve high levels of sustainable performance.
Lynn S. Powell
Director Institute of Certified Professional Managers




James Madison University
Harrisonburg, VA
Discovered by Cherokee-American author Gary Lear and recognized and taught at leadership development programs such as the US Navy's Center for Naval Leadership, the AFOA of Canada, and the business school of Stetson University, the Seven Elements of High Performance™ as taught in Leadership Lessons From the Medicine Wheel provide a framework for understanding what elevates the best organizations above mediocrity, and gives leaders a guide for improving their organization's performance.
In Leadership Lessons from the Medicine Wheel: The Seven Elements of High Performance, Gary teaches you about the concept of the Medicine Wheel and then leads you through each of the Seven Elements. He provides an understanding of why each element is important and how it works individually and collectively to drive exceptional achievement. Gary also shares with you some stories and ideas on how to use the Seven Elements of High Performance™ in your organization to achieve success and significance.
This leadership book comes at a time when there is a shortage of really new ideas on how to resolve the upcoming leadership shortage. The book's focus on building a performance culture and increasing innovation based on a foundation that is based on a mixture of lessons learned from American Indian culture and traditional leadership research is a breath of fresh air.
Dr. John Sullivan
Professor of Management, Noted Author, and Columnist
San Francisco State University



Download the Table of Contents

GET KINDLE EDITION