Leadership Connections: Engaging Performance™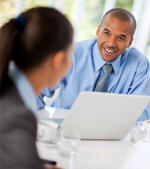 Manage the Environment, Not People!
The primary role of managers is to manage the environment! We cannot really manage people… they do either what they want to do, or what they believe they have to do. What we want managers to do is to create an environment where people want to, and can excel… where they can, and do, perform at their best!
So any development program for managers must focus on developing the knowledge and skills needed to manage the work environment. In their efforts to improve productivity, many managers over-control people, and use the fear of negative consequences to obtain compliance or obedience. The result is a highly toxic environment in which talented people refuse to work… they leave. And those who do stay are more focused on staying out of trouble than they are on being productive. The end result is that this kind of manager achieves the exact opposite of what they are intending… lower productivity. And of course they blame it on their people.
Leadership Connections™is specifically designed to help managers learn how to create the kind of environment where their people can excel.