Executive Leadership Forum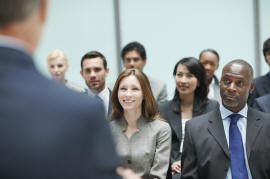 It Takes Exceptional Executive Leadership to Create an Exceptional Organization!
You have worked hard to get where you are. You are an expert at finance, operations, sales, marketing, logistics, IT, HR, or whatever your functional area might be. Unfortunately, research indicates that this is probably not going to be enough for your organization to become or remain exceptional. It takes a different skillset to provide the leadership that is needed to create exceptional organizations.
If you do what everyone else is doing, then you will get what everyone else is getting; Most get Mediocrity at best!
This means that there needs to be a different approach to the leadership development of executives — one that uses the most current research on high performance organizations and translates that into application and results!
An Investment in Your Future
By attending an Executive Leadership Forum, you open doors for your future and the future of your organization. What you are about to experience is like no other executive development program. Demanding; Challenging; Exhilarating; this program is designed to not only develop you as an executive leader, but also help you develop your organization.